A farewell and reception session for students participating in the cultural exchange program Qisasna "Our Stories"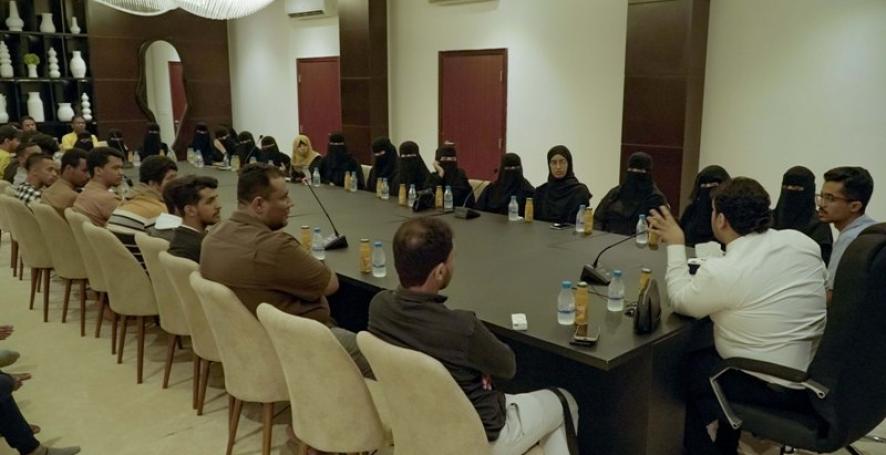 A session was held in the city of Mukalla to bid farewell to the first batch and receive the second batch of students participating in the cultural exchange program Qisasna, "Our Stories," which is implemented by Hadhramout Foundation - Human Development, represented by the Hadramout Languages Institute, in partnership with the international organization AMIDEAST, and funded by the Stevens Initiative.
During the session, the Executive General Manager of Hadramout Foundation - Human Development, Eng. Tareq Ali Balkhasher, welcomed the attendees, pointing out that Qisasna program is one of the qualitative programs implemented by the Foundation and praising the role of the leadership of the Hadramout Languages Institute, represented by its director, Eng. Omar Bukair, in implementing interactive programs of an educational nature.
20 students in each batch, divided into 4 groups, participate in the program, which lasts for 4 months. Each group contains 10 students of both nationalities: 5 Yemeni students from Hadramout and 5 American students, who produce a series of podcasts during the training. 
The program is based on organizing dialogue meetings between Yemeni students from Hadramout and American students, interspersed with discussions, from which the output is a podcast that deals with local, American, or common issues. It also aims to connect American and Yemeni students by training them in the skills needed to produce podcasts within 14 weeks, in addition to teamwork skills and story preparation.
Moreover, this program seeks to develop the trainees' personal abilities by having them participate in meetings and discussions in both Arabic and English with many people of different ages and cultural backgrounds.
The program targets Yemeni youth between the ages of 18 and 24, who have an intermediate level of English, and seeks to train a number of virtual teams.
Participants first join an online dialogue-facilitated mentoring session, and they complete a series of podcast training modules. They then form podcast pairs and continue to engage in online dialogues while working to create a pilot podcast episode. The activities are complemented by mentoring to support their podcasting efforts. Upon completion of the facilitated dialogues and draft podcast, Qisasna students are awarded digital certificates provided by AMIDEAST.