The meeting of the companies participating in the job fair for the Alumni Club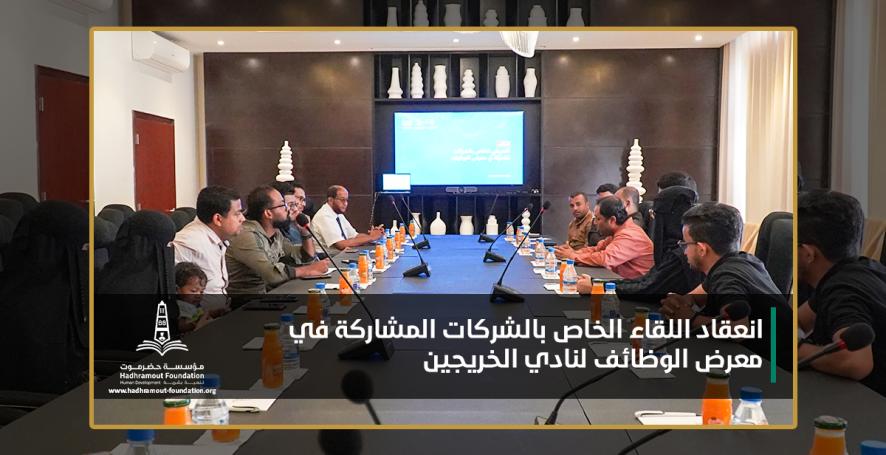 This morning, the companies participating in the Hadhramout job fair for the Alumni Club at Hadhramout Foundation-Human Development met to finalize the preparation process for the fair's second edition to be held next week.
In the meeting, Mr. ZakiMuqais, Director of the Scholarship and Training Department at Hadhramout Foundation-Human Development, gave a brief overview of the Foundation, highlighting the primary goal of establishing the Alumni Club and emphasizing the role of the fair as a social responsibility for all in guiding graduates from universities and institutes, along with crafts professionals to engage in labor market as needed.
Eng. Saeed BaRayyan, director of the Alumni Club, welcomed the attendees, emphasizing the club's interest and endeavor to bridge the gap between graduates and the labor market through training and qualification programs, and directing graduates to choose appropriate specializations based on local needs.
In turn, Eng. Abdullah Shammakh, the manager of programs and projects at the Alumni Club, indicated that there are more than 150 vacancies after reviewing the job fair plan with the company delegates.
Mr. Abdulqader Al-Zubaidi, the club coordinator, gave a full explanation of the electronic platform system, which includes approximately 2000 registered graduates. The platform works as a link between employers, university graduates, institutes, and the unemployed.
Likewise, the representatives of the participating companies put forward a number of inquiries and proposals to ensure the achievement of the desired goal of holding the fair.
The meeting was also attended by the coordinator of the internal projects of the club, Ms. Nahed Al-Bahsni, and representatives of a number of companies and parties participating in the fair.